A single origin Brazilian Yellow Bourbon. Available in 227g or 1kg bags.
The No.10 kicks off with a sweet and creamy mouthfeel. An immensely skilful and beautifully rounded player. Distributing bold notes of roasted nuts and caramel with a bittersweet cocoa conversion. 
Our No.10 coffee is the 5th in the Tiki Tonga Coffee Roaster range and our first single origin coffee.
 Tiki Tonga Preparation Notes This Arabica coffee has some real complexity Enjoy black to fully appreciate this single origin coffee, great as a double shot of espresso or as a cafetière or filter coffee.
Tasting Notes
Notes of roasted nuts, caramel and rich cocoa with a creamy mouthfeel.
About the Origin
Being a single origin coffee means that the beans in No.10 are from one country and in this case, one variety of coffee plant – the Yellow Bourbon. Yellow Bourbon refers to the variety of coffee plant from which these beans are picked. The name Yellow Bourbon comes from the fact that, unlike most coffee varieties, which produce rich red berries when ripe, the Yellow Bourbon variety produces yellow fruit making them a distinctive and recognisable coffee variety.
Why Tiki Tonga Coffee Roasters
Tiki Tonga Coffee is a roastery that infuses a mutual love of coffee and sport. Sourcing only the finest beans from across the globe, Tiki Tonga Coffee Roasters craft the most refined blends, with unlimited care and dedication. Offering flavours that will elevate the senses and pack the winning punch.
Tiki Tonga's Mission to help save our beautiful planet
At Tiki Tonga Coffee Roasters, we are constantly striving for the perfect cup of coffee. So we ensure our coffee is ethically sourced straight from the mountains all the way to you.
· Coffee Beans
· Suggestion - As single espresso - 8g coffee, 25ml shot, Water 92°C, Extraction time 25 seconds
· Coffee – Single Origin Brazilian Yellow Bourbon
· Ethically sourced and expertly roasted. From the mountains, washed, roasted and enjoyed
Customer Reviews
07/16/2020
Dai R.
United Kingdom
I recommend this product
Smooth and delicious
This is the perfect mix of depth and creaminess for me. I personally also found it a more forgiving bean whilst still being relatively new to using a coffee machine - meaning I still had a pretty great coffee even when I sometimes tamped too hard or got the dose slightly off. So if you've just got a new coffee machine and are excited to jump into grinding your own beans and being your own barista, these are the beans for you! And now after months of really getting to grips with coffee making, I still come back to this blend as I just love the smell and the flavour.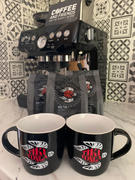 07/22/2020
Tiki Tonga Coffee Roasters
Dai what a super review and also great pic, thanks so much for taking the time to share with us !
05/12/2020
Bob R.
United Kingdom
Highly recommended
Wonderfully smooth & creamy! Highly recommend.
05/06/2020
Sara C.
United Kingdom
MY FAVOURITE MORNING PICK ME UP
Works treat with my V60 pour over in the morning, thanks guys !