The No.2 is an excellent full-bodied blend that carries well through milky drinks.
 Available in 227g and 1kg bags.
Tiki Tonga Preparation Notes
This blend packs a caffeine punch with a high Robusta content. As a double espresso shot this makes a perfect pre -work out boost to really get your brain engaged for the task!
Tasting notes
No.2 is heavy and punchy with a powerful liquorice kick and throwing in a cocoa finish. Earthy notes scrum together smoothly with a subtle spicy undertone.
Why Tiki Tonga Coffee Roasters
Tiki Tonga Coffee is a roastery that infuses a mutual love of coffee and sport. Sourcing only the finest beans from across the globe, Tiki Tonga Coffee Roasters craft the most refined blends, with unlimited care and dedication. Offering flavours that will elevate the senses and pack the winning punch.
Tiki Tonga's Mission to help save our beautiful planet
At Tiki Tonga Coffee Roasters, we are constantly striving for the perfect cup of coffee. So we ensure our coffee is ethically sourced straight from the mountains all the way to you.
Coffee Beans

Suggestion - As a double espresso - 16g coffee, 50ml Shot, Water 93°C, Extraction time 25 seconds

Coffee Blend - Indian Washed Robusta, Kenyan Arabica, Brazilian Mogiana Arabica, Ethiopian Djimmah Arabica

Official Coffee Supplier of Saracens Rugby Club

Ethically sourced and expertly roasted. From the mountains, washed, roasted and enjoyed
Customer Reviews
11/01/2020
Jerrod D.
United Kingdom
I recommend this product
Bought no2 as a tester for an extremely fussy coffee head. Was very impressed enough for them to go ahead and try a subscription and will be trying others as we go along. Oh and love the mug perfect weight and nice rim that helps it flow smoothly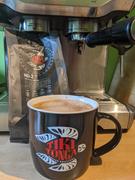 11/03/2020
Tiki Tonga Coffee Roasters
Thanks Jerrod, so good to hear!
10/07/2020
Anonymous
United Kingdom
I recommend this product
The best
Been buying Tiki Tonga for a while and have to say it's the best coffee in the market, great value abs superb taste.
09/01/2020
Stephen S.
United Kingdom
I recommend this product
Going to be a regular.
Love the taste of this blend. So will go on the list of my future purchases along wit the Guinness and the Decaf. A good selection in my opinion.
06/02/2020
Seamus M.
United Kingdom
I recommend this product
Given myself a problem
My normal subscribe and save Blend no 9 took a bit of a lockdown hammering so I needed to order a fill in batch to fill the void. I plumped for a different blend by way of change and selected no 2. Wonderful coffee and I enjoyed every drop but now don't know which one to go on with. Guess I'll just have to mix and match as both as too good!
06/02/2020
Tiki Tonga Coffee Roasters
Hi Seamus, Know the feeling!! I change out the blends regularly. Number 2 is more of a robust finish and stands up very well if you are adding milk to your drink recipe. Here is a link to our VIP coffee guide for you to help you choose from the rest of the team too ! https://drive.google.com/file/d/134uaxjoSLZ54LmtWILlok1Q27KU_5bHQ/view?usp=sharing Keep caffeinating! Sara and the Tiki Tonga Team
06/01/2020
David P.
United Kingdom
I recommend this product
Great coffee
Can't fault it, good, strong coffee at a great price